Great Glen Hall, Inverness
Inverness, IV3 8FA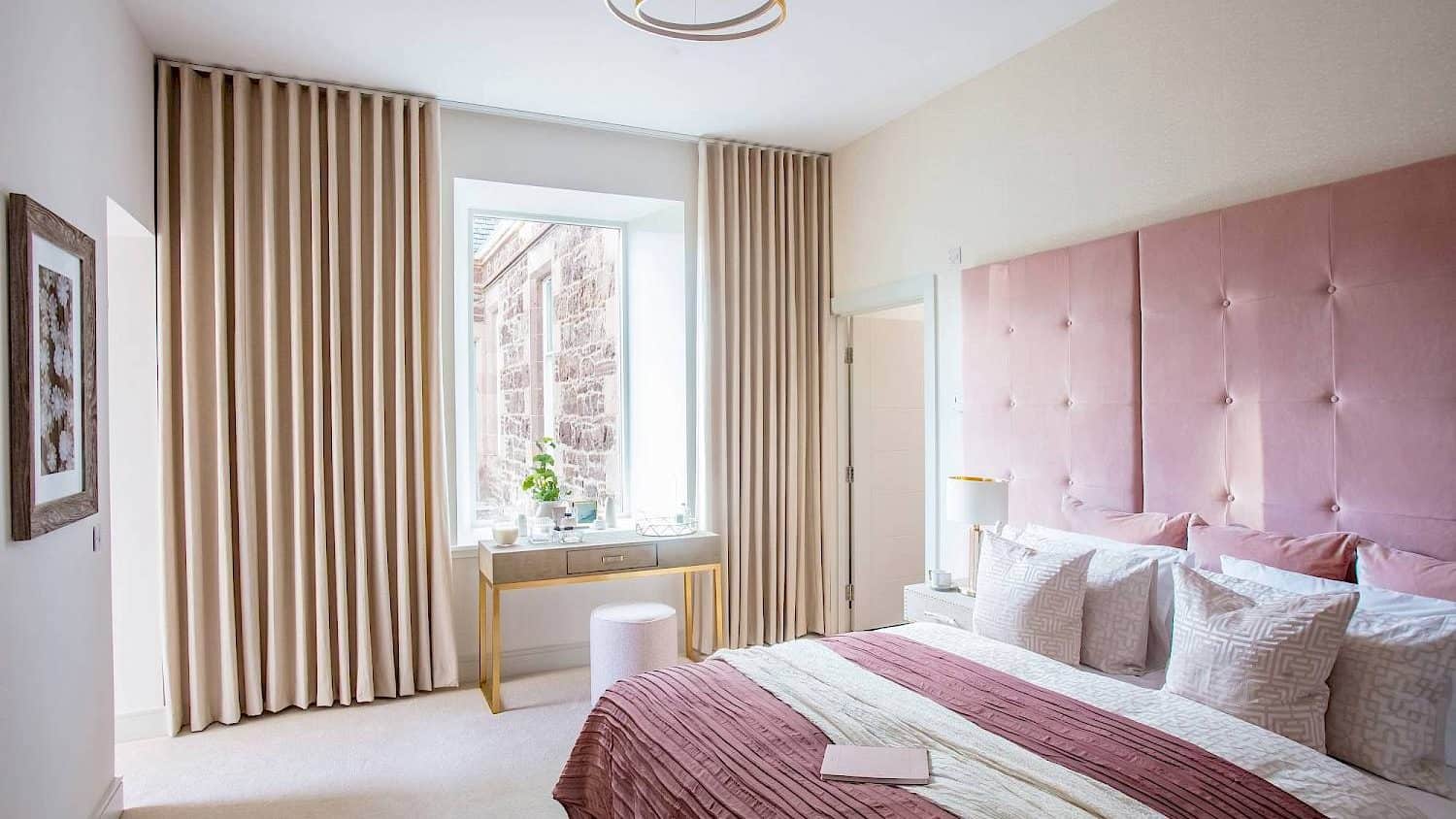 Homes for sale at Great Glen Hall, Inverness
Reserved

Plot 44

2 Bedroom Apartment

Messner


Reserved

Plot 32

3 Bedroom Apartment

Irvine


Reserved

Plot 58

2 Bedroom Apartment

Brice


Reserved

Plot 37

2 Bedroom Apartment

Bonington


Reserved

Plot 26

2 Bedroom Apartment

Cameron

Customise your future Robertson home
*Typical Example Selector System. Ask your sales Executive for guidance on which selections are available on your development.
Family is... a new home at Great Glen Hall
Combine stylish living with historic grandeur and throw in some breath-taking views and you'll have just some of the benefits of a home at Great Glen Hall. 
Great Glen Hall offers a rare opportunity to live in a part of Inverness's history in this refurbishment project. In an outstanding location with amazing views, we've taken a palatial Victorian hospital and repurposed it to provide generously proportioned one, two and three-bedroom apartments and a number of two and three-bedroom townhouses, all in the beautifully landscaped ground on the outskirts of Inverness
At Robertson, we believe that it's the small details that make the difference, and our homes come with desirable and trusted brand names as standard. At Great Glen Hall, you'll find built-in SMEG kitchen appliances, Vitra sanitaryware and Porcelanosa tiling. These brands add the final, luxurious touches to our rather special homes.
Situated at the foot of the Great Glen, only 15 minutes drive from the centre of Inverness and close to the A82 road that runs the length of Loch Ness to the south.
Key Information
1, 2 & 3 bedroom apartments & 2 and 3 bedroom townhouses

Victorian refurbishment

Landscaped grounds

Fantastic views over Inverness
How would you like to share this?
Click to enlarge
The development plan is for illustrative purposes only. Please visit our Sales & Marketing Suite for more information and talk with our expert team for more information.
Experience a Robertson Home
Take a tour
Experience a Robertson Home
Living near Inverness
The majestic Caledonian Canal runs for sixty miles from here to Corpach near Fort William. It offers a never-ending adventure for lovers of sailing, walking, running, cycling and fishing.

Even on your own, you'll never be alone. There are always birds to keep you company – robins, chaffinches, goldcrests and woodpeckers are just a few of your avian neighbours.
Sport and leisure
Whatever the weather, the Inverness Leisure Centre offers a vast range of exhilarating activities. With a large wave pool, river with jets and geysers, three flume rides and an outdoor thistle-shaped pool, family-sized spa bath and toddler pool, it's the most enjoyable place to go for a dip in the Highlands.
On the outskirts of the city, Torvean Golf Club covers approximately 400 acres of well-maintained mature parkland. It has one eighteen-hole course, which is both a joy and a challenge to play.
Mortgage Calculator
Calculate how much you'll pay per month and the total cost over the life of the mortgage
Please note: these calculations are intended as a general guide only. Always seek advice from a regulated broker before acting on any information generated here.
Over full term, you'll repay
£
The Robertson Team have made what friends and family called the most stressful life experience an exciting and positive one. From the moment of our first meeting and registering our interest in the development to the staff staying late in order to hand over keys to our new home at the conclusion of sale.

The friendly sales advisor, who we very quickly realised we could trust, was able to get all the information to answer our questions and provided the reassurance we needed. We couldn't have asked for a better level of communication and support during these initial stages.

We found the perfect family home; it was the amazing customer service we received from Robertson that made our decision.

The sales advisor has been wonderful and so helpful, going out of her way to make sure that everything went smoothly for our move. Nothing was too much for her.

I was really surprised and delighted by the attention to detail! The weight of the doors, height of the skirting boards, floor to ceiling heights, just luxury.

They made sure I was happy with everything and didn't make me feel rushed. We looked at a number of properties but the quality of this home was superior.

Friendly service with excellent communication throughout. Nothing was a problem and they were there whenever I called to answer my questions.

Great value for money compared to the Cala Homes in the local area. There is a cracking finish on the house - they are one of the best developers in Scotland.
Speak to us over the phone
Call 03330050479
Sales & Marketing Suite
Great Glen Hall apartments and townhouses are located at Great Glen Place, Inverness, IV3 8FA FROM INVERNESS Make your way out to the Glenurquhart Road, (A82). Travel down A82 until you go over the swing bridge, (canal bridge). Take next right on to General Booth road. Follow to Leachkin road and turn left. Follow Leachkin road until you see Great Glen Hall. FROM THE NORTH Go over Kessock bridge and turn right on to Longman Road. Follow signs to Loch Ness / Urquhart Castle, (A82). Turn right at Telford Street. Follow Telford street and turn left, just after the canal bridge, on to King Brude Road. This leads on to General Booth Road. Follow up to the traffic lights and turn right on to Leachkin Road. Follow until you see Great Glen Hall.
Sales & Marketing Suite and Showhomes are now open 7 days by appointment only, at 10.30 am till 5.30 pm, call, register or live chat to arrange an appointment. On Tuesdays & Wednesdays please call 0777 501 0831
Register your interest
Email Icon
Be first for updates and info about Great Glen Hall, Inverness
Exclusive promotions and price change notifications